CREATIVE WRITING WORKSHOP (ZOOM CLASSES)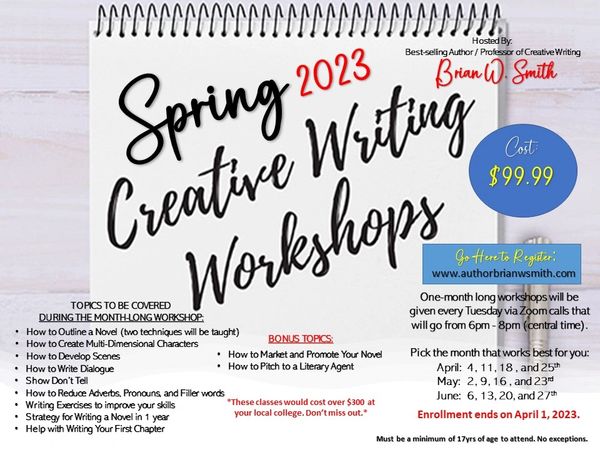 CREATIVE WRITING WORKSHOP (ZOOM CLASSES)
This is the perfect workshop for aspiring authors and established authors who are seeking to improve their writing AND/OR learn how to get a major book deal. For l/3 of what it will cost to take a Creative Writing class at a college, Bestselling Author & College Professor of Creative Writing, Brian W. Smith, will give you the ingredients that have helped him write 38 bestselling novels (Dallas Morning News, Amazon, Target, etc.) and sell more than 100,000 novels as an independent and land a major book deal with Simon and Schuster in 2011 (to which he is still signed). 
These MONTH-LONG workshops will be held on Tuesdays and are chopped into 2-Hour Zoom sessions (6PM - 8PM (central standard time). Choose the workshop month that fits your schedule:
April 4, 11, 18, and 25 // May 2, 9, 16, and 23 // June 6, 13, 20, and 27 . Accommodations can be made in the event your schedule conflicts with a session in the month you choose. 
Once you sign up for the workshop, you will be contacted (via email). At that time, the Zoom link to attend the workshop will be given to you AND you can state the month you'd like to do your 8-hour workshop. ENROLLMENT ENDS ON APRIL 1, 2023!!!!